Post up your most memorable moments/rounds/maps from your TF2 history. They don't have to be as long as this, but I needed a thread to put it in
So tonight the map changed to Dustbowl, and I started out defending. We got rolled pretty convincingly and lost all 3 stages in around 10 minutes. We got switched to attacking, and didn't manage to take CP2 on stage 1. Things were not looking good, and I was switching between classes trying to fill gaps in the team. I always end up being forced to do this, but I never play well. I need to kind of get into the class and start thinking like them or else I just make stupid mistakes.
Anyway, we got put back on defence, and things didn't improve a lot. Sice nothing I did was working I decided to go medic and stay there - we only had a couple on the team. The first stage went down pretty fast, and I thought the second would too. I uberrushed their spawn with a pyro at the start, and though we didn't really kill anything it seemed to rattle a few cages. The rest of the team was holding out in the hut on the CP platform, and healing heavies kept us safe for a while, but eventually a few attackers started slipping through the cracks, and weak teams have trouble responding to attackers on multiple front. CP1 fell, and although we held CP2 for a while, and uberheavy from the house scattered us away for the lose.
Stage 3 should be the easiest for the defenders and I was determined to at least put up a fight. I uberrushed at the start with a demoman and we caused a bit of hurt, and after we held out well with a demospam out the windows. Of course the sentries didn't quite do their jobs, and when a couple of demomen stickyjumped to the point, we lost it and the retreat began. I called for a demospam, and for all the demos to paint the alley with sticky bombs, and much to my surprise they did. I stood around healing demos for a while, and a couple more joined in, backed up by a heavy.
At this point we were holding out at the corner near the attackers' entrance to the tunnel. We kept a constant flood of stickies coming from our 4 demomen, and the attack stalled. Our team somehow became a perfect mix of around 3 medics, 2 heavies, 4 demomen, a couple of engies and some other things, and we put up a serious wall. The BLU guys kept throwing themselves against us but couldn't get through - as I'm sure you can imagine it was awfully satisfying. They broke through a couple of times with an uberdemoman or heavy, but our demos were able to retreat and push back again with the 3 or 4 medics in support. We fell back seriously at one point, and 2 medics and a soldier reached CP2 with some backup coming up behind them, but we held them off, popped and uber or two, and pushed back to that original corner.
And did I mention I hadn't died since CP1 was taken? That was what was so special. I was right up on the front line as medic healing constantly and not dying. Eventually after living for a while I decided to go for Specialist (10K healing) and started playing a bit more conservatively. I stuck with the demos at the corner and was handing down instructions for the best part of 10 or so minutes, and we were able to take the fight back to them. We had a few awesome uberheavy pushes, and managed to garrison that building (with the stairs down to the tunnel) for significant chunks of time, casuing major hurt with the heavies. Specialist was looking good, and I thought there was even a chance for Big Pharma.
Heavies are tough to stick with however, because they normally get swamped and can't escape quickly enough, so I made sure to get away when things turned ugly so as to survive. I was in red health a couple of times and an intense melee fight with an engy in that room in that building with the health and ammo box, but otherwise fairly well defended, thanks in great part to my heavy and demo teammates. The thing was I just wasn't getting Specialist. I'd healed for AGES and knew it must have been 10,000 health by now, but I didn't get anything. I kept healing and healing, continuously expecting it to pop up the next second, and terrified of dying with 9950 or so.
Eventually I remembered that the first round I played medic after the update I got Chief Of Staff and Intern only after I died, so realised that's when I'd get it again. From then on I could fully appreciate the epic dominance we were dishing out, as demonstrated by the DOMINATING signs that kept coming up at the top for me. The healing continued, and the team stuck together and held the line awesomely. We had about 4 medics for the last 5 minutes or so, and the flow of ubercharges was something to behold. It was even sweeter because their team wasn't bad (they flogged us the rest of the maps), but they had just gone braindead like most teams do when they just can't push through a point, and their teamwork breaks down in an attempt to try something different that might give them an opening. We countered everything the did however, and when the round finally finished with me still alive, THAT was one of my best TF2 moments. Emotionally, and no question statistically.
I didn't take too many pics because I was concentrating, but here's a few you might enjoy: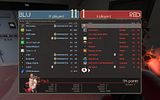 - - -
- - -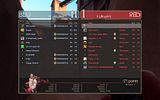 A few shots of the scoreboard at various stages of the game. Some of the people I was dominating left, so like a statement of financial position, these shots don't give the full picture. Also note the map score.
Big thanks to Malcoholic, Tris Train and RuxpiN for being awesome demos, Animaniac and Kagrath for the heavying, and Danger Mouse and Greenfreak for the medic support. Wouldn't have done it without you guys, respect.
And the final result (the longest life and possibly most ubers were bugged, which sucks because now I can't beat them):